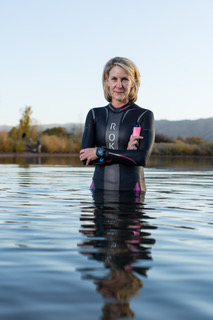 As a coach, I'm often asked questions about wetsuits. In the early days of triathlon, a wetsuit truly was an optional piece of equipment. More and more, it is becoming a required piece of equipment.
To the most basic questions: Do I really need a wetsuit? Will a wetsuit make me faster? I respond: it depends. Overall, when the water is cold and you want to be competitive, the answer is a resounding yes. Novice swimmers to open water conditions may struggle with a wetsuit, potentially causing more problems than they solve.
Certain body types will benefit more from a wetsuit than others. Some athletes' bodies naturally sink and some bodies naturally float in the water. For those who struggle to stay on the top of the water, a wetsuit is an angel from heaven. For those who have a high body position, the wetsuit can potentially put them too high on the water, making it difficult to get propulsion.
In part one, I cover #1-5 of 9 guidelines (part two covers #6-9) to help you find the right wetsuit for you and your race conditions.
6. Train in your wetsuit
Training in your wetsuit in the open water is the best way to optimize return on your investment. The more you acclimate to the suit and the open water, the greater your comfort and the better your performance. If you can't get to the open water before your race, try it out a couple of times in the pool. I know this goes against manufacturer's recommendations as the pool chemicals can compromise the integrity of the rubber. But, feeling confident and comfortable in your wetsuit will be worth the very minor impact one or two pool swims will have.
Train in your wetsuit, even if it's just once or twice in the pool. Work towards being 100% comfortable and confident in that wetsuit in training before your race. I guarantee you will be glad you did!
7. Putting on & taking off your wetsuit
Putting on your wetsuit before a race or training takes a little time so no need to rush to get in it. If you have any areas that get chafed (neck area) or are extra snug (wrists and ankles), lubricate with a product like Body Glide. Get into it when you are dry (wet skin makes it nearly impossible to put on). Once you have it all the way on, before you zip up, snug it up. Pull all the excess material (arms and legs) up and in towards your torso millimeter by millimeter. This will optimize your fit and comfort.
In order to get out of your wetsuit quickly and efficiently, you will need to practice this in training. Well worth the extra time to do this as getting stuck in your wetsuit on race day is no fun and adds time to your overall race time.
As you start to stand up at the end of the swim, quickly scoop water into the neck of your wetsuit. This will make it easier to strip as the water runs through and creates space in the wetsuit. As you stand up, put your goggles on your head, unzip and pull down your arms and torso while running to T1. When you get to your bike, pull off the legs of the wetsuit. If you struggle getting your feet out, consider cutting the legs on your wetsuit. The legs taper toward the ankle thus the leg opening is very narrow. You can cut them as high as mid-calf and still get full buoyancy from your wetsuit. Start with an inch or two at a time.
8. Care, maintenance & repairs
Taking good care of your wetsuit will give it a longer more useful life. Rinse your suit in clean water after every use. Allow it to dry inside out. Avoid leaving it in direct sunlight. Hang or fold to store. Avoid contact with sharp objects, this includes fingernails when putting on or taking off your suit. Wetsuit glue or rubber cement can be used to repair minor cuts. Repairing them when they are small prevents bigger, un-repairable rips.
9. The rules: when can I wear a wetsuit in a race?
USATriathlon wetsuit policy:
4.4 Wetsuits. Each age group participant shall be permitted to wear a wetsuit without penalty in any event sanctioned by USA Triathlon up to and including a water temperature of 78 degrees Fahrenheit. When the water temperature is greater than 78 degrees, but less than 84 degrees Fahrenheit, age group participants may wear a wetsuit at their own discretion, provided however that participants who wear a wetsuit within this temperature range shall not be eligible for prizes or awards. Age group participants shall not wear wetsuits in water temperatures equal to or greater than 84 degrees Fahrenheit. The wetsuit policy for elite athletes shall be determined by the USAT Athletes Advisory Council. (20/68)
What if the triathlon is not USAT sanctioned? They will still follow these rules, except:
Ironman wetsuit rules are a bit different.
Wetsuits cannot measure more than 5 mm thick.
Wetsuits are permitted if the water temperature is up to (and including) 76.1 degrees Fahrenheit (24.5 degrees Celsius) or colder.
Wetsuits will be prohibited in water temperatures greater than 83.8 degrees Fahrenheit (28.8 degrees Celsius).
Athletes who choose to wear a wetsuit in water temperatures between 76.1 degrees Fahrenheit (24.5 degrees Celsius) and 83.8 degrees Fahrenheit (28.8 degrees Celsius) will not be eligible for Age Group awards, including IRONMAN World Championship slots or Roll down slots.
Full wetsuits are permitted (arms and legs covered).
The De Soto Water Rover wetsuit is PROHIBITED
Originally from: Ironman.com
A wetsuit is an important purchase. Take your time, do some research, try a few different brands and styles, swim with it often in the open water and watch your performance improve year after year.