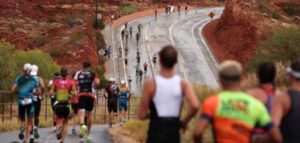 Race selection guides the path of your training and preparation for the whole season.  Start by assessing your race goals and dreams then map out any other races that support your big goal. Read on for guidance on how best to strategically choose your races this season.
What's your dream? Race distances and speed goals
Is your dream to complete your first sprint, full Ironman or to qualify for Ironman World Championship? Or, to move up to your first Olympic distance? To qualify for USA Triathlon National or World Championships at the sprint or Olympic distance? How about trying out the new super sprint and mixed relay format?  What about a gravel race? There are race distances and competitive goals out there to fit anyone's triathlon dreams and goals.
What's your current triathlon experience level?
Are you a novice or seasoned triathlete? And, if you're a novice triathlete, do you have a long background in any of the three individual sports? As a novice athlete, it's best to start with the sprint distance triathlon. Start short and grow from there to either longer distance races or getting faster at the short distance races. If you're a beginner triathlete, but an experienced endurance athlete with a background in any of the three sports, it's possible to progress at a faster rate. For example, if you've done several half and full marathons, you could start with a sprint race and quickly prep for a half Ironman (70.3) distance race. Your individual rate of progression depends on your capabilities as a swimmer. As an adult novice triathlete, learning to swim can take many months to many years. Proper swim technique and competence in the open water on race day is critical to success as this is where many athletes will struggle and possibly fail with inadequate preparation.
As a seasoned triathlete, the sky's the limit for speed and distance of your goal races. For all triathletes, it's important to look at what's going on in your life during your heaviest training phases. Are you getting married, moving, starting a new job? These are all big life events that will put a big dent in your training time.  Life always brings unexpected surprises, so give yourself a few extra months padding to compensate.
Planning: Start with your biggest goal of the season first
Once you've chosen your big race, work backwards from there. Take any calendar format and start penciling in some races and dates. Remember to consult with family members when making these final commitments. Support from those around you is important on many levels. Choose races that play to your strengths. Here are a few general rules to follow:
Start with shorter races before longer races, especially if you're just starting out. This allows you to get reacquainted with or get to know triathlon racing, grow your confidence and check your fitness prior to your big goal event.
Try out some single sport races, especially in your weak sport. New to running? Try some 5 or 10k races; new to open water swimming? Do a few open water races or aquathons (swim/run events).
After a sprint race, allow 2-4 weeks before your next race; after an Olympic distance, allow 3-5 weeks; after a 70.3 allow 5-8 weeks; after a full Ironman, allow 8-16 weeks. These are minimum numbers.
Example: Big goal is Ironman Arizona in November; a half Ironman at least 5-8 weeks before this; an Olympic, at least 3-5 weeks before this; a sprint at least 2-4 weeks before the Olympic.
It is OK to take more time between races. Racing too much can put you in a state of overtraining and under recovery. Recovery is critical to having a great race.
A simple rule of thumb is not more than 1 race per month and always allow more recovery time if you are traveling and/or doing a long course race.
Keep in mind that if you choose an early season race (March), you will be doing the majority of your training during the winter months and possibly through the holidays.
Level up to that big reaching goal
Where do you find the races? Here are some resources for events around the nation:
trifind.com   All distances, all states
ironman.com  Full & 70.3 distance, national and international
USA Triathlon sanctioned events   All distances, all states
How do you qualify for the bigger races? There is no qualification requirement to do a half or full Ironman distance race. (Note that there ARE cut off times for all finishers.) But you do need to qualify if you want to go to a World Championships.
Ironman World Championship qualification
70.3 Ironman World Championship qualification
In order to qualify for USAT nationals (sprint and Olympic distance), you can do this at a local event by placing at or near the top of your age group. Here are all the details:
USA Triathlon National Age Group National Championships qualification
One of the newest additions to world and national championships are the super sprint and mixed team relay formats. Both are fast and fun! These races are run at an event called the USA Triathlon Multisport National Championship Festival. At this time, you do not need to qualify to race any of these events.
USA Triathlon Multisport National Championship Festival
Local or destination race
If you're just starting out in the sport, it might be best to do your first race locally. That way you know your way around and know the general terrain and climate. There are races around the globe. Often triathletes will put together a vacation around a destination race, say, in Hawaii or Australia. The bike poses the biggest challenge when traveling. You may be able to rent a bike (reserve ahead) in some cities. Otherwise, you can travel with your bike or have it shipped through a bike shop or race bike transport services that go to specific races.
Research the race
The more you know about the race, the better you can prepare. It's important to know essentials such as: weather (wind, heat, humidity, cold, rain), terrain (hilly, flat), size of the race, size of the city, accommodations, travel options (drive, fly), etc.  Check local weather and Facebook groups and other social media for the race for insights. Find some races, even single sport races, that mimic the conditions you'll face at your big goal race.
Specific preparation for race distance and goal speeds
If the race course is hilly, you'll want to include plenty of hills in your training. If it's flat and windy, get out in the windiest weather you have to know how to ride and run in the wind. Bicycle handling is much more challenging with head and cross winds. For weather, if you're going to a hot humid climate, you can get creative to help your body adapt to new weather. Heat acclimatization can be accelerated by riding your trainer indoors with a heater on or wearing extra clothes.  Even hot yoga, sauna, steam room, etc are helpful. Prepping for a cold water swim can be done with consistent cold showers or baths.
If there are time cut offs or you're planning to qualify for a championship event, you must pay attention to time, distance, speeds and paces while training. Doing race simulation workouts in the weeks leading up to the race will help you know if you're on target to hit your goals.
One size does not fit all
In order to pick the best race timeline for your season, it's important to know that one size does not fit all. Training and preparation for a race is a dynamic process. Make a plan, be flexible along the way and course correct as needed. There is no single road to your final destination.