This blog post was reprinted from the USAT website.
The Fantasy Camp Experience
May 5, 2015 by Julianne Miata
When I think about my experience at the USA Triathlon Fantasy Camp, one word comes to mind — fantasy. I use this word because unless you attended with our great crew, you would have a hard time believing all of the amazing opportunities we had at the Colorado Springs Olympic Training Center (OTC). If I knew that elite coaching, training, learning, skill building, networking, racing and fitting were all going to be provided — at the level it had been — I would have signed up for the camp even sooner than I had.
Day 1
USAT Fantasy CampDay one began with a breathtaking view at the entrance of OTC. It's not every day I get a view of a mountain like Pike's Peak, at the entrance of a building where countless legends have walked through the door. We received a great welcome from the USA Triathlon staff, who arranged the details for our camp. I proceeded to receive an event goodie bag that is probably better described as a triathlete's gift registry — I could not believe all of the amazing items we had received. We didn't even have to qualify for it!
We then proceeded to our Retul bike fitting (yes, this was included), and met the friendly staff that did a wonderful job of relieving pain I had in the saddle. To say I've been under a rock with technology is an understatement. I couldn't believe the data the fitters were pulling up simply by attaching a wire to the right side of my body. Thanks Retul for the great fit!
After meeting my awesome roommate, and unpacking at our dorm for the week, the entire group proceeded to the theater on campus, where we got an introduction of the camp from USA Triathlon's CEO, Rob Urbach. Even if you take away all of the great things from earlier in the day, having the CEO there to welcome us, showed how highly regarded the camp was. I got to meet the eight other campers, learning all of their names and at least one cool thing about them within minutes. Our passion for triathlon was one thing we had in common, and it brought us all together in Colorado Springs! There was a range of experiences, and we came from all across the country, making for a great networking opportunity. The night concluded with meetings with nutritionists. I had completed a food and energy log prior to the camp, and the nutritionist was able to provide feedback on my habits and how I could improve to help my training going forward.
Day 2
I was a little nervous going into the second day – our itinerary had us scheduled for a swim, bike, run and lifting session. Yes, 5.5 hours of exercise! I have never done that amount of exercise in one day before, and certainly never in four different disciplines. Our group had a laugh hopping in the pool — apparently the water hadn't been changed since Michael Phelps trained there, so you can imagine the jokes that ensued. We then proceeded to get a tour of the OTC, which included going into all of the buildings and seeing professional athletes in action during practice. Notably, we saw the high altitude training area — it's obvious that OTC has state-of-the-art facilities and the best in the world, but I didn't know it included a room where staff can actually change the feeling of altitude, temperature and humidity to prepare athletes for races — if that's not the best, I don't know what is.
Before we started lifting, we met our first Olympian coaches at the camp — Greg and Laura Bennett. Greg and Laura are married, both phenomenal athletes with even better personalities.
CSOTC Swim Facility Colorado Springs Olympic Training Center Campus
High Altitude Training Room Strength Training Facility
Alan WebbThe day continued with a running skills session with Bobby McGee, the best running coach in the world. (That's not just me being giddy with excitement — Bobby has coached the best runners out there, and is a genius in the sport). As if Bobby wasn't enough of a resource for running, Olympian and American record holder Alan Webb joined him. Let's be honest — it's imperative that we triathletes get coaching from a 3:46 miler! Please keep in mind that there were nine athletes at the camp, and we split into two groups for our run and bike sessions.
Last but not least, we had our bike skills session on Computrainers. I mentioned we had two professionals assisting with lifting and running. Well, I suppose two wasn't enough for biking, because we had three professionals. Susan Williams, the only U.S. triathlete to medal in the Olympics in the sport, Melissa Mantak, a triathlon world champion and Level III certified coach, and Tim DeBoom, a two-time IRONMAN world champion. As if all of this wasn't enough, we had a Q&A with all of these great athletes later in the evening, which also included Jennifer Gutierrez, 2000 Olympian, and Barb Lindquist, 2004 Olympian. If you're keeping count, that's eight premier athletes in the sport that we had meals with, networked w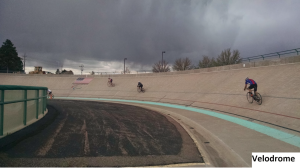 ith and received 1-on-1 coaching from. And I've only described two of five days of our camp!
Day 3
Saturday morning we started with a 3-hour swim session led by Barb. She was assisted by five other coaches. As a swim coach myself, I was very interested to learn more about the intricacies of technique. I was pleasantly surprised to learn a number of new drills, and specific aspects of the stroke that I was not aware of. How do I know about these specific aspects? Because each athlete had an underwater videotape session, and got feedback from Barb later that evening. Even after coaching for 10+ years, and swimming for almost 20, I still have things to work on!
Guess what workouts came next? Surprise, surprise — biking and running. USA Triathlon doesn't keep things ordinary though — we drove out to the Air Force Academy, and rode and ran with Greg Bennette Tim DeBoom, Melissa Mantak, Susan Williams, Rob Urbach (USA Triathlon CEO) and Tim Yount (USA Triathlon COO). Again, as if this wasn't enough people, we also had impressive cadets alongside us. Naturally, I went into campus recruiting mode, asking the cadets about their time on campus and how they balance all of their commitments. What an impressive group of students — they do double workouts of all the triathlon disciplines and a full course load every day. Having the Rocky Mountains as a backdrop completed the package.
VelodromeFollowing our Air Force Academy visit, we went to the velodrome. Family and friends know me as risk averse, so I was extremely content with staying on the flat surface. But when you have Melissa Mantak come behind you on your casual stroll saying "You're going to get up to that black line, pump the pedals, pick up speed, and hit the turn!" there isn't really an opportunity to say no. I mean, we're cruising at least 15 miles per hour — how do I tell one of the best coaches in the world "Sorry, I'm just not up for it." So I scurried 6 inches over to the black line, and experienced a rush of fear I haven't had in a long time. I know what you're thinking – 6 inches up a velodrome cannot possibly be scary. I dare you to try it. When you shriek and fall off your bike, come back and laugh at me then. My fearless roommate was inspiring as she climbed all the way to the top (that's her in the middle of the picture.
Laura and Greg BennettFollowing the velodrome, we began the transition clinic led by Greg and Laura Bennett (now my favorite athletic couple). Individuals who know the sport of triathlon are not naive enough to think there are just three disciplines. Swimming, biking and running isn't enough — the art of transitions are critical, and as our coaches frequently used the term "free speed," we learned how efficiency in transitions is paramount to perform well. Little things like proper shoe and helmet placement can shave 20-30 seconds off your total time, resulting in the difference of first and second place (or 300th and 301st in my case). Bike handling doesn't come easy, so cornering (or learning how to aggressively speed through turns) was our next lesson. Imagine the difficulty for a minute — when trying something new, people say "it's like learning to ride a bike." Remember your bike from when you were a kid? Now imagine your wheels are about a 10th of the thickness. Now add about 18 miles per hour, and tricky turns. It's an art that needs to be mastered, and we couldn't have had better coaches than the Bennetts to learn it.
Day 4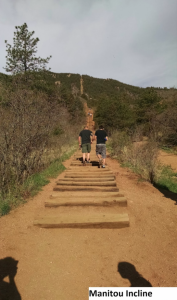 Time for a little relief (at least that's what I thought!) – a bike ride to the common tourist attraction in Colorado, the Manitou Incline. Little did I know this meant a 2,000 foot gain in elevation in just a mile hike! Falling short of breath during this hike is an understatement — no amount of thought could explain how Tim DeBoom could complete this climb in 22 minutes, compared to my 55 minute completion. The views were spectacular! You can imagine my surprise when the staff told us we'd do the 3-mile descent as a run. At this point of the camp, I wonder if this is simply the average workout for a Colorado resident. The latter makes me even more jealous of the atmosphere the residents are surrounded by on a daily basis.
Manitou Incline Top of Manitou Incline
A workout like that is enough right? Not to the CEO…we continued to ride to Garden of the Gods for a scenic lunch, but then he challenged me to a ride around the garden. Challenge accepted! I pictured a casual ride, passing beautiful rocks and sculptures with ease — why would the Gods make any ride inside their haven challenging? But climbs ensued! Lots of them. It destroyed my quads but was definitely worth it, not just because I got to ride with the CEO of the sport I love, but because of the breathtaking views.
What is a trip to Colorado Springs without seeing where the magic happens for our great sport? We rode to the USA Triathlon headquarters, and were greeted by NormaTec boots in lounge chairs to recover our legs. We viewed the London 2012 women's Olympic triathlon race (starring Laura Bennett!) and then had our own individual massage session. Before preceding to our nice Italian dinner, we learned about the balance of triathlon. How does a full-time working professional fit all of the disciplines of triathlon into their schedule? It's a question I've been trying to figure out for the past two years, and this session certainly provided me with takeaways to make the entire mix work once I return to the East Coast.
Day 5
By day 5, we've covered all the information a triathlete would want to know. We've met more Olympians and professionals than the average human comes across in their lifetime. What else is there left to do? What we do best — RACE! The incredible staff put together a wonderful race for us. A super sprint triathlon, with all the bells and whistles Transitionincluded. Each athlete had their own transition area, buckets included. There were carpets so we wouldn't cut our feet running to transition area, bike and run "in" and "out" signs, cones to outline the course, police cars and officers to keep the road closed and safe during the bike portion, an aid station along the run and even the notable Tim Yount announcing the finishers and their times. Have you gathered yet that the USA Triathlon staff didn't cut corners? My mouth was gaped open almost the entire race, recognizing the continuous attention to detail and help the staff provided to make this an unforgettable experience.
Camp concluded with a slideshow of great photos taken by the staff all weekend long, and awards and certificates of completion for all the athletes. Athletes receiving awards such as the "Super Beast," "Torpedo" and "Bravery" had us all walking away with a realization how well we all b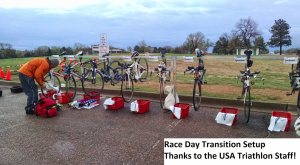 ecame acquainted in our five short days together. The relationships will last a lifetime, as we all go back to our home states and attack our dreams to be the best in a sport that keeps us fit, fulfilled and most importantly, happy.
Parting Thoughts:Garden of the Gods Tour
I hope you as a reader have gone through a journey understanding not only how great the USA Triathlon Fantasy Camp was, but how thoughtful and how hard the USA Triathlon staff works to make our sport the best in the world. Thank you to all of the staff for your hard efforts — as an event planner myself, I know how easy it is to forget small details. You didn't forget any! Every time I thought to myself "it would be great to have water, or food right now," I had one in my hand a second later. The staff knew exactly what we wanted, and compiled a schedule of events that would make someone's head spin. Living it made me truly feel I was a full-time athlete — a fantasy. I hope that the fantasy carries me to new heights as I continue to compete and coach in this sport, filled with wonderful people that make it that much better.